It's become popular in real estate circles to say that open houses don't work, or are a waste of time, or that buyers aren't interested in them because they can find out everything they want to know about a property online at 2 am in their pajamas. But if that were true, why would the top real estate search websites offer the option to search by open house date? The truth is, even the most comprehensive, technologically advanced virtual property tour can't replace that magical, intangible, 'OMG this is IT' feeling a buyer gets when they walk into a home and know it's the right one for them. And the only way to get that feeling is to give them the opportunity to be in the home.
Whether you're an open house pro or just starting out, there are always new ideas you can try to take your open house game to the next level.  Let's take a look at several ways to host an open house that gets results:
Stage it Like a Pro — As you're preparing the house, focus on the Three C's:  Clean. Clutter Free. Curated. The home should be spotless from top to bottom, with no lingering cooking odors or pet smells. Get rid of or pack away clutter to enhance the appearance of space and openness. Create interesting groupings of furniture, wall art, and accessories and use them to guide potential buyers' eyes through the space. Strategically placed fresh flowers instantly add a feeling of luxury and sophistication. Find more staging tips here.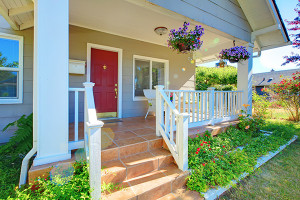 VIP Preview — Neighbors are naturally curious, so why not take advantage of that and reward their interest with a first look?  Invite them over an hour before the public viewing for a preview. They will appreciate the gesture and become some of your best word-of-mouth advertising, not to mention think of you favorably when the time comes for them to sell.
Changing Times — Rather than the usual early-to-mid- afternoon time slot, shift a few hours and try 3-5 pm instead. You'll catch buyers toward the end of the day when they're getting serious about evaluating all the homes they've seen. And while most agents opt to host weekend open houses, you can stand out by doing weeknight 'Happy Hour' open houses. You'll catch curious commuters on their way home from work, which will be a nice diversion from their daily drive.  Serve light snacks and sparkling non-alcoholic beverages to enhance the after-hours atmosphere. Another option is a mid-morning 'Coffee Break' open house, which is the perfect time to catch stay-at-home moms and dads on their way home from dropping the kids at school.
Lock it Up – Everyone benefits from a safe event. Ask all attendees to show ID and sign a guest book. Ensure they're escorted as they tour the house. And ask the owners to remove or lock up valuables and medications. Recruit another agent or friend to be your backup, in case things get too busy to keep track of where everyone is in the home at any given time.
Ask for Feedback – Ask potential buyers leading questions as you're touring the home: "What do you love about it?" "Is there something you'd like to change?" Offer written comment cards for them to fill out, as well. Everyone loves to give their opinion and you'll get valuable insights that will help you sell the property.
Make it Memorable – Even if potential buyers decided the home isn't right for them, be sure everyone leaves happy. Give guests something they can use during their home search such as a small notebook, business card holder, or a high-quality neighborhood map with key areas like schools, shops, and restaurants highlighted – all branded with your information, of course.
https://featuredagentmagazine.com/wp-content/uploads/2016/03/featured-agent-magazine-logo-1-300x52.jpg
0
0
AdminMagazine
https://featuredagentmagazine.com/wp-content/uploads/2016/03/featured-agent-magazine-logo-1-300x52.jpg
AdminMagazine
2016-04-11 20:01:11
2016-06-16 17:21:22
Host an Open House that Gets Results