There comes a time in every homeowner's life when home improvement projects take center stage. Whether you're preparing to put your home on the market, or simply want to spruce it up and make some upgrades for your own enjoyment, there are several home improvements that give you a great return on your investment. Here are the improvements that always add to a home's value.
Back to Basics — It may not be as sexy as say, adding a steam shower (more on that later), but when considering home improvements, it's always best to start with basic care and maintenance. Repairing or replacing worn plumbing, leaky windows, and faded, ill-fitting exterior doors are great places to start. Consider adding extra insulation and upgrading your HVAC system to keep your home more comfortable and energy efficient. Hunt for cracks and leaks in the foundation and have them repaired. Basically, if it's involved with the structural integrity of the home, it needs to be inspected and fixed (if necessary) before starting any other projects. Doing so not only helps your home maintain its value, it catches small problems before they have a chance to turn into expensive emergency repairs.
Take it Outside — Once you have the basics covered inside, it's time to do the same outside. Trim trees and hedges, get your lawn looking green and lush and plant flowers to add color. Be sure there are no tree roots heading for the pipes or overgrown limbs interfering with gutters or drainage. Conversely, if your front or back yard is looking too plain, add plants, trees, ground cover or decorative rocks. No one wants to look at a yard that's little more than dirt, especially if you're in the process of trying to sell. Check out some super-affordable curb appeal upgrades here.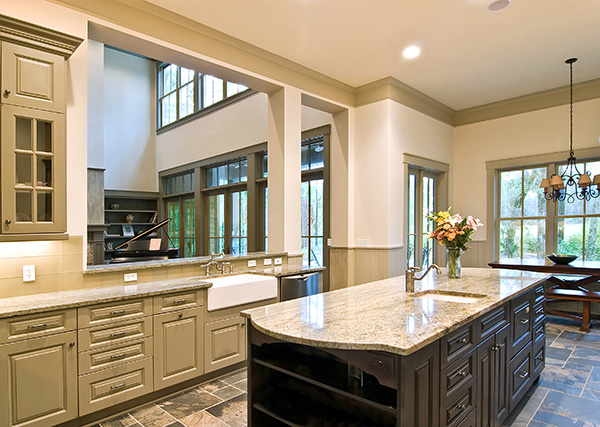 Cook Up an Island — Ditch the breakfast nook or high-top bar counter and elevate your kitchen by adding an island. It will bring in extra storage and much-needed counter space, not to mention being the stuff Instagram envy is made of. If a built-in island isn't in the cards, there are many stylish moveable kitchen islands that can give you the same look and functionality at a fraction of the cost. If you're not sure an island is the way to go, a portable island can help you decide if you want to follow through with building a permanent one.
Open Up Space — Whether your family is growing or you'd just like a little more breathing room, creating more space is one of the most meaningful home improvements you can make. The sale price of a home can increase up to 30% for every 1,000 square feet of space added, making it easily worth the investment. If you're not up for the process or expense of doing an actual addition, strategically removing existing walls can create the illusion of more room and give you much more workable living space.
Create a Beautiful Bathroom — There was a time when a whirlpool tub was considered the height of home bathroom luxury, but those days are long gone. Today's busy, stressed out homeowners want maximum relaxation with minimal time and effort. Replacing your seldom-used bathtub with a spacious walk-in shower is an unbeatable upgrade that will always add value, not to mention aesthetic appeal. Extra points if it's a floor-to-ceiling steam shower for the ultimate spa-like experience.
Get Green — Adding green home features, such as solar panels, super-efficient HVAC systems, or low-flow plumbing instantly increase your home's value. Many prospective homeowners are looking for green homes and won't even consider listings that don't have at least a few green features. Plus, it won't take long to reap a return on your investment when you see how much you save on utilities.
Look Under Your Feet — Flooring is an often overlooked aspect of your home that can either detract or add value, depending on what state it's in. If your tile, hardwood, or bamboo floors are still structurally sounds but looking a little worse for wear, have them thoroughly cleaned and polished. If your place is still bogged down in wall-to-wall carpet, it's definitely time to start doing something about it. If you can't afford to go all out and replace every room with new flooring, start with largest living area and work your way through the rest of the house.
These are just a few of the upgrades that can add value and beauty to your home. When choosing what home improvements to pursue, adding value is important, but what's more important is that the change you make adds to the love and enjoyment of your home.
https://featuredagentmagazine.com/wp-content/uploads/2016/03/featured-agent-magazine-logo-1-300x52.jpg
0
0
AdminMagazine
https://featuredagentmagazine.com/wp-content/uploads/2016/03/featured-agent-magazine-logo-1-300x52.jpg
AdminMagazine
2016-07-18 18:24:22
2016-09-10 01:51:02
Bank on It — Home Improvements that Add Value