Furnishing a new home is fun and exciting. Unfortunately, it can also be really expensive. But it doesn't have to be. There are plenty of things you can do to lessen the cost of creating a comfortable, beautiful home that reflects your taste and personality. Here are six tips for furnishing a home on a budget.
Reuse, Repurpose, Recycle — It's tempting to want to fill a new space with all new furniture, but it's not really a practical option. Instead of going crazy buying everything new, go through what you already have and look at it with fresh eyes. Many things can easily be refreshed and made to look new with just a coat of paint or stain, or by adding slipcovers or colorful throw pillows. Also, don't be afraid to mix things up. For example, just because you used a piece as a nightstand in your old place, doesn't mean it can't serve as an end table in your new home. Mix, match and move things around from room-to-room to create all-new combinations.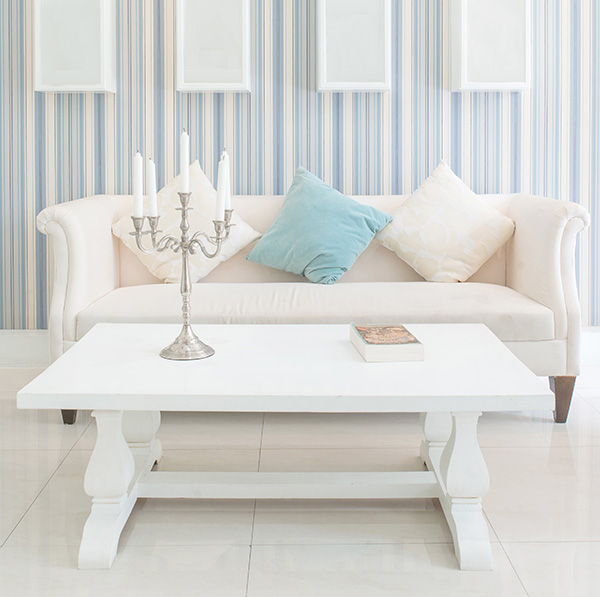 Focus on Function — Instead of blowing your budget creating a gorgeous guest room that will rarely be seen, put your efforts and money toward the rooms that get the most use. Creating a comfortable living area and cozy bedrooms will make you a lot happier than overspending on a  formal dining table that you will only use a few times a year.
Shop in Unexpected Places — You'll want to go to the furniture store for ideas and inspiration, but you don't necessarily want to shop there. Many are notorious for marking prices way up, only to offer meaningless discounts that still leave prices too high. Once you have an idea of the types of pieces you want to furnish your home, start looking in other places. Warehouse clubs like Costco are often a great source for good quality pieces, as are estate sales. And don't forget to shop online, too. It's an easy way to compare prices and find the lowest one if you have your heart set on particular piece.
Buy the Best Quality You Can Afford — This may seem counterintuitive when the focus is saving money, but it's also true that you get what you pay for. Saving up or waiting to buy a good quality piece until it goes on sale is a smarter choice than buying a cheaply made piece that may look good now but only hold up for a few months, leaving you in a position of having to replace it.
Choose Classic Styles & Colors — Of course, how you choose to furnish your home depends on your personal taste, but you'll get the most bang for your furniture buck if you stick to classic colors and silhouettes (even if that zebra print sofa is SO cool!). That's not to say, however, that your home will look boring or uninspired. Remember, furniture is just the start. The real creativity happens when you add colorful accents like wall art, throw pillows and rugs, as well as painting the walls and trim.
Don't Be Afraid to Bargain — Whether you call it bargaining, haggling or negotiating, asking for a lower price has become a lost art, but that doesn't mean you can't bring it back. If there's something you want that's out of your price range, ask if there's any chance you can get it for less. Remember to ask about floor models, too. They are often available for much less, and stores are happy to get rid of them to free up space.
Furnishing your home should be enjoyable and energizing, not something stressful that puts you further into debt. Using these tips will help you furnish the home of your dreams and stay relaxed enough to really enjoy it.
https://featuredagentmagazine.com/wp-content/uploads/2016/03/featured-agent-magazine-logo-1-300x52.jpg
0
0
AdminMagazine
https://featuredagentmagazine.com/wp-content/uploads/2016/03/featured-agent-magazine-logo-1-300x52.jpg
AdminMagazine
2016-09-10 01:17:07
2016-09-15 01:15:58
Sitting Pretty — How to Furnish a Home on a Budget