'Tis the season to open your home to out-of-town guests. Whether they are just passing through for the night or plan to stay several days, you'll want to treat your guests like the VIPs they are. Here's how to make every room in your home feel warm and welcoming: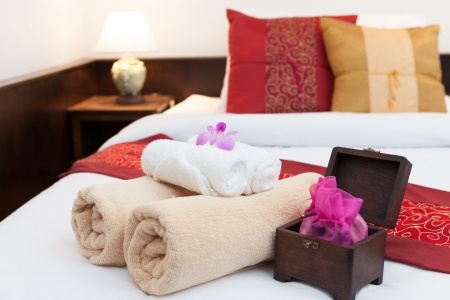 Guest Room — The guest room should be a cozy retreat that allows your guests to recharge.
Make up the bed with high thread count linens and provide extra pillows and blankets so they can customize to their liking.
Set up a tray with a few bottles of water, a fresh box of tissues, mints, lip balm, hand sanitizer and hand cream so they can immediately freshen up after a long trip without digging into their bags for the essentials.
Clear out at least one drawer and make space in the closet; provide empty hangers, a hand-held garment steamer and a lint roller.
Surprise them with a small gift, such as a bottle of wine from a local winery or fresh cookies from a favorite bakery. A vase of fresh flowers is always an elegant touch.
Bathroom — Create a spa-like space to leave guests feeling rejuvenated.
Provide stacks of thick, fluffy towels, the more the better.
Offer all basic toiletries including body wash, lotion, shampoo/conditioner, deodorant and dental care items.
Fill a small basket with over-the-counter medications and first-aid items such as pain reliever, antacids, cough drops, Benadryl, Neosporin and Band-Aids.
Add luxurious hand soap and a scented candle, fragrance diffuser or room spray.
Kitchen — Make sure guests feel welcome in the heart of the home.
Find out if your guests have any food allergies or dietary restrictions and plan meals accordingly.
Make sure to provide everything they need for their favorite morning beverage, whether that's coffee, tea, or smoothies.
Fill a basket or bowl with snacks like small bags of nuts, protein bars, crackers and fresh fruit so they can grab something without having to ask you each time.
Keep the fridge stocked with pitchers of filtered water and be sure there's plenty of fresh ice.
Living Areas — Whether watching a movie or chatting about old times, it's all about making guests feel comfortable.
Add some extra pillows and throw blankets to chairs and couches so guests can snuggle up.
Provide written instructions for how to use remote controls and access streaming services.
Have a stack of magazines, books and board games ready to beat boredom.
Outdoor Areas — Extend hospitality outside the home, too.
In cold climates, keep walkways clear of snow and ice to avoid slips and falls.
In warmer climates, make sure outdoor seating areas are clean and inviting.
Little Details — Your guests will appreciate these thoughtful extras.
Make sure the wi-fi signal is strong in all areas of the house; install extenders to boost weak spots.
If it's a rainy season in your area, have extra umbrellas ready by the front door.
Put fresh batteries in all remote controls – don't forget the garage door opener.
If you have a lot of activities planned, provide a written itinerary so guests know what to expect.
Be sure pets are freshly bathed or groomed so snuggles are welcome.
Welcoming guests into your home is one of the most special aspects of the holiday season. With a little thought and careful planning, you can turn your home into an oasis that your guests will never want to leave.
https://featuredagentmagazine.com/wp-content/uploads/2016/03/featured-agent-magazine-logo-1-300x52.jpg
0
0
AdminMagazine
https://featuredagentmagazine.com/wp-content/uploads/2016/03/featured-agent-magazine-logo-1-300x52.jpg
AdminMagazine
2016-11-16 22:16:44
2016-11-16 22:16:44
Prepare Your Home for Holiday Guests