Listing a home for sale during the winter months comes with its own unique set of challenges, not the least of which is how to stage a home for the season once the holidays have passed. It's easy to make a home look beautiful and inviting when everything is merry and bright, but more challenging when all the decorations have been put away and the weather is still gloomy and gray. But with some creativity and the right tools, it's possible to make winter home staging look easy. Here's how: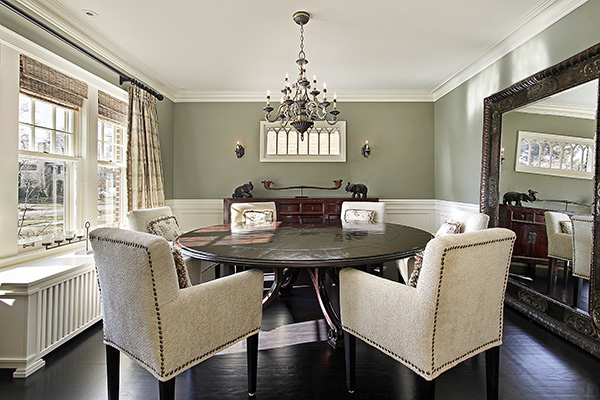 Clear the Clutter — Just like we tend to lighten up our eating habits after the holidays, our visual diet can use a break, too. The holidays are all about sparkle, shine, glitter and glam. And while all those things are beautiful, they can become overwhelming over time. That's why January is the perfect time to stage homes to look clean, soothing and clutter free. It's a welcome break after the visual feast of the holidays. And because people tend to be spending most of their time indoors during the winter, clutter or anything overdone can contribute to feelings of claustrophobic cabin fever.
Shift the Color Palette — After a season of bright red, kelly green, and shiny metallics, a more muted color palette feels right this time of year. Try adding accents in rich, classic shades like slate blue, burgundy, ivory and sage green. You definitely want to incorporate color inside to counter the gray skies outside, but it should be muted and subtle, rather than bright and bold.
Add Layers and Texture — Potential homeowners want to walk into a home that looks and feels like a place conducive to snuggling and relaxing. Winter home staging is all about adding texture and layers with decorative rugs, warm throws and extra pillows will create those feelings. Focus on cozy, touchable fabrics such as flannel, faux fur and chunky cable knits that look like a favorite sweater. Make sure bedroom comforters and bedspreads have the same seasonally appropriate look and feel.
Bring the Outdoors In — Rooms always feel more authentic when you bring a bit of the outside in. Place seasonal citrus fruits like oranges and grapefruit or pomegranates in a wooden or heavy ceramic bowl on the kitchen or dining room table. Pine cones offer the same earthy, organic ambiance. Even a small, indoor herb or succulent garden placed on a windowsill brings a dash of much-needed green life to a space and serves as a reminder that spring will eventually arrive.
Go Into the Light — When it's dark and gloomy outside, it's important for the home's interior to look bright. Consider upping the wattage of the bulbs in lamps throughout the house and adding sleek torchiere lamps in dark corners to cast a warm glow throughout the room. Don't forget to leave the porch light and other exterior lights on so the home's exterior appears inviting.
Show Other Seasons — Ask the homeowners for photos of the property during the spring and summer. Put them together in a photo album or in picture frames placed strategically throughout the house. Those viewing the house will appreciate seeing the flowers blooming in the spring or the garden overflowing with vegetables during the summer.
Add Thoughtful Details — When it comes to winter home staging, little details can make a big difference to prospective homeowners who are viewing the house. Make sure there are clean doormats by all exterior doors so they can wipe their feet before coming in. No one wants to walk around inside all bundled up, so bring in a coat rack or place some removable Command hooks in the entry way so they can shed coats, scarves and hats and walk around unencumbered.
https://featuredagentmagazine.com/wp-content/uploads/2016/03/featured-agent-magazine-logo-1-300x52.jpg
0
0
AdminMagazine
https://featuredagentmagazine.com/wp-content/uploads/2016/03/featured-agent-magazine-logo-1-300x52.jpg
AdminMagazine
2016-12-19 23:14:09
2017-12-22 18:47:08
Fresh Start — Winter Home Staging