Whether you're preparing a home for listing during the summer months, or just want your own living space to feel cool, comfortable and seasonally appropriate, there are several things you can do to make that happen. Of course, you can't fully redecorate every room for every season, but there many easy, inexpensive and fun ways to transform a home into a relaxing summer getaway.
Decide to Declutter — Think of your favorite summer beach house or the best hotel room you've ever stayed in. Chances are part of the reason you loved it was because it was clean, serene and clutter-free. To achieve that look, pack away a majority of the dust-collecting knick-knacks, framed photos, heavy throws, books, and other clutter. It's a great first step in opening up rooms to give them a lighter, airy feel. Your items will feel new again when you bring them back out in the fall; or you may decide you like the look so much that you begin to embrace minimalism.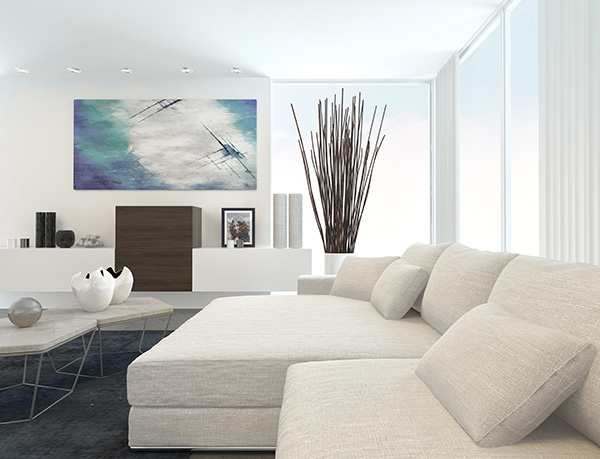 Change the Layout — Nothing can change the look and feel of a room more quickly than rearranging the furniture. If your current seating arrangement is centered around a fireplace, change it around to focus on a window instead. If living areas are feeling crowded, consider removing extra chairs or end tables and replacing them with large floor cushions in bright fabrics for lounging and watching movies; they can be stacked out of the way in a corner when not in use.
Embrace the Light — Replace dark, heavy curtains with light and airy sheer panels that catch the breeze and let in light. Your room will feel larger and more open when the windows aren't weighed down with heavy fabrics and dark colors.
The Scents of Summer — We all love the smell of a pumpkin spice or rich, warm vanilla candle, but strong, foody scents can become heavy and overwhelming during the warmer months. Switch your home fragrance to something light, fresh, and clean. Citrus aromas and green florals are universally pleasing choices, as are scents reminiscent of a day at the beach (especially if you're landlocked). Instead of candles, which can generate extra heat when they're burning, switch to scented oil diffusers. They'll keep a steady, subtle aroma in the air without worrying about whether kids, guests or pets might accidentally knock over a burning candle.
Add Splashes of Color — Here's where it gets really fun! Summer is the time for punchy brights, crisp nautical hues, and All-American red, white, & blue color schemes. Incorporate color into bedrooms and bathrooms with crisp new linens and towels in your favorite summer colors. Add some striped, floral and solid throw pillows to couches and chairs in the family room. Stock up on Turkish towels, which are super-lightweight, dry quickly and come in loads of fun colors. They can serve as pool towels, swim cover-ups, tablecloths or light throws if the AC is cranked a little too high. In the kitchen, add some brightly colored acrylic serving pieces like trays and pitchers to your table settings, and use cloth napkins in a complementary hue.
Bring the Outside In — Fresh flowers are abundant this time of year – maybe even in your own yard! Take advantage of Mother Nature's good mood and keep fresh flowers in your home throughout the season. It's one of the easiest, most beautiful ways to make a home feel summery. Stick with vibrant colors like hot pink, sunny yellow and juicy orange; save the deep, dramatic hues like burgundy and purple for fall and winter. Whether you go for a full-on arrangement or just a few stems in a simple vase, you'll smile every time you see them.
Don't Forget the Floors — Sandy. Wet. Muddy. Grassy. Dusty. Floor coverings take a beating during the summer. Roll up and store wool throw rugs and replace them with inexpensive washable rugs you won't feel bad about getting rid of at the end of the season. Don't forget to add a new doormat to every entrance door to catch sand, dirt, and water before they get tracked inside.
https://featuredagentmagazine.com/wp-content/uploads/2016/03/featured-agent-magazine-logo-1-300x52.jpg
0
0
AdminMagazine
https://featuredagentmagazine.com/wp-content/uploads/2016/03/featured-agent-magazine-logo-1-300x52.jpg
AdminMagazine
2016-06-21 01:20:20
2016-06-21 01:20:49
Transform a Home Into a Summer Oasis