You know that one house on the block that always catches your eye as you drive by? It just has that certain something that always makes you look twice and think "what a cool house!" That something is called curb appeal. If you're getting ready to sell your home, boosting its curb appeal is an important step to help ensure it sells quickly. But even if you're not selling, why not bump up the curb appeal anyway? You'll love seeing those special touches every time you return home. Plus, now your house will be the one that has that certain something that gets the neighbors buzzing. Here are several ways you can boost curb appeal quickly and easily. Best of all? Most ring in under $100!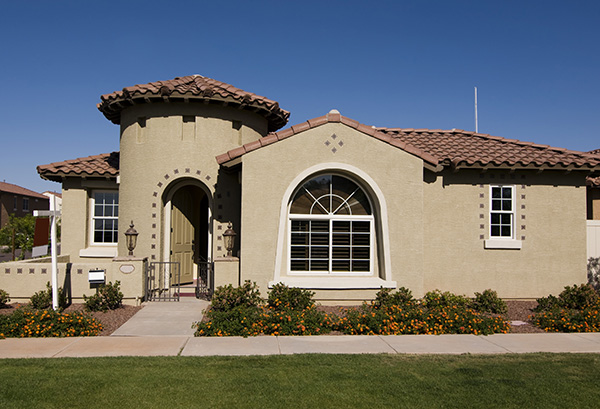 Create a Dramatic Door — There's no easier way to make a statement than with a colorful front door. It stands out in the best possible way and causes people to look twice. The question is, what color? The possibilities are endless and only limited by your imagination (and maybe your HOA). Bold red, hunter green, and glossy black are classic choices. Turquoise, yellow and mint green lend a vintage vibe, while lime green, gray and bright white feel contemporary. If you just can't decide, download the app Front Door Paint, which allows you to see how different colors will look before you choose. The door makeover doesn't have to stop with paint, be sure the hardware is looking good, too. You can clean, polish and even paint (using spray paint for metal) what's already there or add new hardware to complete the new look.
The Numbers Count — If you're selling your home, clearly visible house numbers are important so prospective buyers know they're looking at the right house. But more than that, stylish house numbers can enhance the overall look of your home's exterior. Choose a font and material that complements the architectural style of your house for a clean, cohesive look.
Prioritize Plants — Bursts of color from fresh flowers add a warm and welcoming look to the front of your home. You can install window boxes, a vertical hanging wall planter, or simply cluster flowering potted plants into small groupings. If entry space is limited, you can achieve the same feeling by using hanging planters. If the climate doesn't allow for summer flowers, or if you prefer a minimalist look, potted succulents are a trendy (and easy care) alternative.
Shed Some Light — Exterior lighting is more than an aesthetic issue, it's one of safety as well. Make sure you have ample illumination by the front door and along the front walkway. If outdoor lighting fixtures are looking worn and weather-beaten, clean them first, then polish or paint them. Line the front walkway with solar twinkle lights or light stakes. It might not seem like much during the day, but at night everyone will notice the beautiful glow.
You've Got Mail(box) — A saggy, shabby, weather-beaten mailbox can downgrade the overall look of your home. If yours is still in good shape, clean it and give it a coat of fresh paint. If it's seen better days, upgrade to something new.
Don't Forget the Details — Pay attention to the small details that can make a big difference in your home's curb appeal. Fix or replace torn window screens, keep sidewalk cracks and edges free of weeds and grass, power wash the driveway until it looks pristine, and roll up or put away garden hoses.
https://featuredagentmagazine.com/wp-content/uploads/2016/03/featured-agent-magazine-logo-1-300x52.jpg
0
0
AdminMagazine
https://featuredagentmagazine.com/wp-content/uploads/2016/03/featured-agent-magazine-logo-1-300x52.jpg
AdminMagazine
2016-06-21 01:29:50
2016-06-21 01:29:50
Boost Curb Appeal for Under $100