As exciting as it is to move into a new home, the process of moving out of the old one can be costly and time-consuming. And waiting until the last minute and being unprepared will only make things worse. With the right planning and preparation, you can take some of the stress out of moving and put that energy toward being excited about your new home. Here are several ways you can save your sanity — and even some money — when moving:
Plan a schedule — Moving is a huge job! But just like anything else, if you break it down into small, manageable steps, it becomes much easier. Plan a schedule beginning at least four weeks out from your moving date to ensure you leave yourself plenty of time to get everything down and account for any unexpected occurrences. Be sure to factor in time for sorting, packing, holding a yard sale, cleaning and making any necessary home repairs. Set daily goals and allow yourself rewards when you meet them, such as taking a break to have a glass of wine or stream an episode of your favorite show.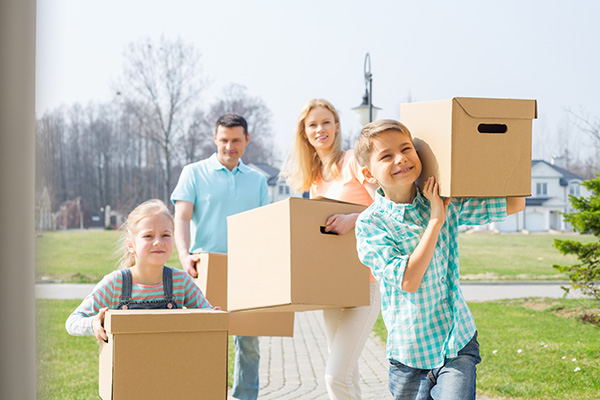 Sort and sell — Moving is probably the only time to really take stock of everything you have and decide whether or not it's still something you need or want. Go through every room in your home — including the attic, basement and garage — and take an inventory of what you find, then determine if each item is something you still need, use or love. If it doesn't fall into any of those categories, it's time to let it go. Sell items that are in good condition by listing them on EBay, Craig's List, or Let Go, or simply have a blowout moving sale to get rid of everything at once. For anything that doesn't sell, call a local nonprofit and schedule a time for them to come and pick it up.
Hoard boxes — There's no need to waste money buying brand-new moving boxes. As soon as you know you're moving, be on the lookout for boxes you can use. Whether it's at your office, the grocery store, or your weekly Target run, pick up as many clean, sturdy boxes as you can. Ask family and friends to save any good boxes they run across, too.
Learn to love labels — It's easy to toss everything into boxes, seal them up, and deal with it later. But doing so will cost you time and money once you reach your new home. You will end up spending hours looking for things or just giving up and buying new versions because you can't find what you need. By taking time on the front end to carefully pack and label boxes systematically, room-by-room, you'll be able to quickly unpack, find everything you need, and focus on turning your new house into a home.
Eat what you have — Clear out your refrigerator, freezer and pantry by making meals out of the food you have. Try to get through as much as you can and if you have any non-perishable items left by moving day, donate them to a local food pantry. You don't want to spend precious
time loading up boxes with canned food or have them take up valuable space on the moving truck.
Move mid-week — Sure, moving on the weekend is easier, and you don't have to take any time off from work to do it. But, it's also more expensive. Because everyone else wants to move on the weekend, too, you will be paying the highest rates. Moving mid-week can save you money, and give you a head start on getting settled. You might even be unpacked and settled by the time the weekend rolls around.
Take a break from shopping — The last thing you need to do when you're in the process of packing to move is bring in more things you have to pack. Take a break from shopping to focus on going through what you already have. Even after you move, hold off before shopping for new furniture and household items until you've lived in the space for a while. You'll probably be surprised by how your current furniture and décor looks completely different in its new surroundings.
Planning for your move and taking the time to carefully pack and label your items will help moving day go smoothly and reduce your stress level so you can focus on the fun and enjoy setting up your new home.
https://featuredagentmagazine.com/wp-content/uploads/2016/03/featured-agent-magazine-logo-1-300x52.jpg
0
0
AdminMagazine
https://featuredagentmagazine.com/wp-content/uploads/2016/03/featured-agent-magazine-logo-1-300x52.jpg
AdminMagazine
2016-10-19 01:09:03
2016-10-19 01:09:03
Get Your Move On — Money-saving moving tips