If you are among the millions of people who vow to be more active and improve their health, you've probably considered setting up a home gym or workout room. But perhaps you've been discouraged at the thought of the time and expense it would take to put it all together. Fortunately, it doesn't take a lot of time, money or square footage to put together a functional fitness space in your home. Here are five tips to inspire you to create a home workout area you will actually be excited to use.
Define Your Goals — Having a basic idea of what you're trying to accomplish, whether it's losing weight, getting toned, or improving your cardiovascular health, will help you decide how large a space you need and what to put in it. For example, if your goal is to get toned and improve flexibility by doing yoga or mat Pilates, you won't need as much room as if you're planning on getting a treadmill or other fitness machine on which to do cardio.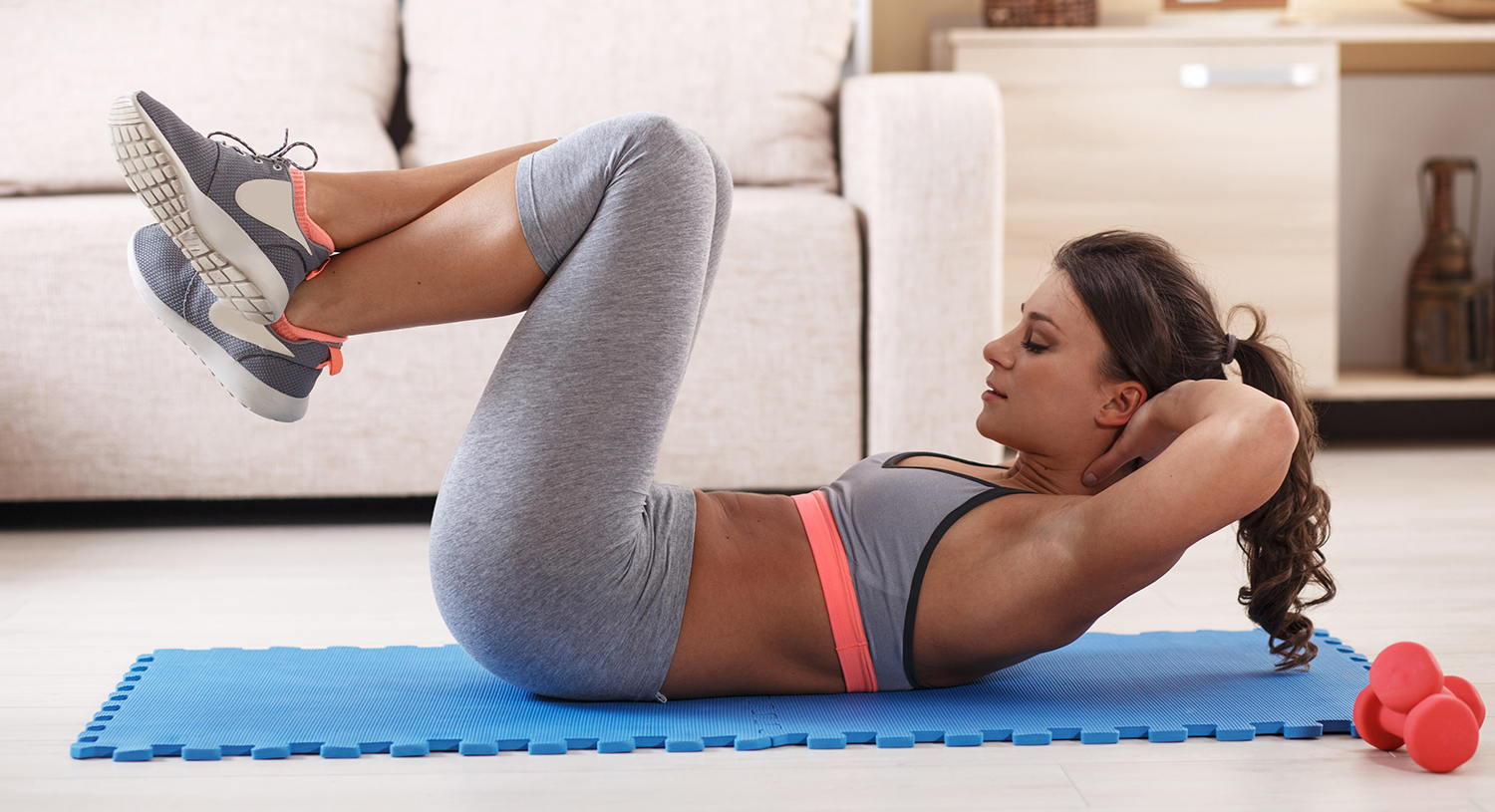 Choose Your Space — You may think you need to devote a full room to creating a home workout area. While having a spare room to use is an ideal scenario, it's far from the only option. You can clear a space in the living room or family room, set aside part of a finished basement, or even use a portion of the master bedroom if it's large enough. If you're creating the workout area in a room that's often occupied with other family members, use divider screens to create a bit of privacy and block out distractions. Whatever space you choose, it's important to make it an area you will actually enjoy and look forward to spending time in.
Start Simple & Add — A common mistake people make when putting together a home workout area is buying too much, too soon. You don't need every new gizmo and gadget out there to create an effective home gym. Many experts recommend focusing on the basics to start with and then adding on as your fitness level and goals evolve. If you outfit your space with a yoga mat, stability ball, a set of dumb bells or kettle bells and some resistance bands, you'll have what you need to get started on improving your balance, strength and flexibility.
Try Before You Buy — Wondering what the most effective piece of exercise equipment is? That's easy. It's the one that you won't mind using day in and day out. We've all heard stories — or perhaps even been guilty of — turning an expensive piece of fitness equipment into a makeshift clothing rack. The only way to figure out what machine is right for you is to try before you buy. Look into short-term fitness equipment rentals or find out if friends or family have equipment you can try several days in a row. That's long enough to know if you enjoy the workout a particular machine provides and if it's something you can picture yourself doing several times a week.
Shop Used Equipment — Once you decide on the fitness equipment you want, look into options for buying it used. You can often find like-new equipment for a fraction of its full retail price at used sporting goods stores, as well as online at Craigslist or on direct selling apps like LetGo. If you have your heart set on buying a brand-new piece of fitness equipment, June is a great month to buy. As people shift their fitness routines to include more outside activity in the warmer months, retailers look to clear out inventory so they're not stuck with it all summer. Be sure to measure the intended space and the equipment itself to ensure it will fit into the area and leave you plenty of room to move.
Starting and sticking with a regular exercise routine is easier and more enjoyable when you can do it from the comfort and convenience of home. With some careful thought and strategic planning, you can create an ideal workout space right at home — the only thing you'll miss is the cold-pressed juice bar.
https://featuredagentmagazine.com/wp-content/uploads/2016/03/featured-agent-magazine-logo-1-300x52.jpg
0
0
AdminMagazine
https://featuredagentmagazine.com/wp-content/uploads/2016/03/featured-agent-magazine-logo-1-300x52.jpg
AdminMagazine
2017-01-02 02:54:24
2017-06-22 16:49:16
Create the Perfect Home Workout Space